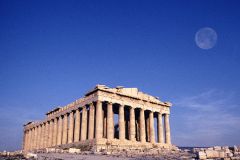 The Parthenon is a temple in the Athenian Acropolis, Greece, dedicated to the Greek goddess Athena.
Its construction began in 447 BC and was completed in 438 BC, although decorations of the Parthenon continued until 432 BC. It is the most important surviving building of Classical Greece, generally considered to be the culmination of the development of the Doric order. Its decorative sculptures are considered some of the high points of Greek art. The Parthenon is regarded as an enduring symbol of Ancient Greece and of Athenian democracy and one of the worlds greatest cultural monuments.
The Parthenon itself replaced an older temple of Athena, which historians call the Pre-Parthenon or Older Parthenon, that was destroyed in the Persian invasion of 480 BC. Like most Greek temples, the Parthenon was used as a treasury. For a time, it served as the treasury of the Delian League, which later became the Athenian Empire. In the 5th century AD, the Parthenon was converted into a Christian church dedicated to the Virgin Mary. After the Ottoman Turk conquest, it was turned into a mosque in the early 1460s, and it had a minaret built in it. On 26 September 1687, an Ottoman Turk ammunition dump inside the building was ignited by Venetian bombardment. The resulting explosion severely damaged the Parthenon and its sculptures. In 1806, Thomas Bruce, 7th Earl of Elgin removed some of the surviving sculptures, with the Ottoman Turks permission. These sculptures, now known as the Elgin Marbles or the Parthenon Marbles, were sold in 1816 to the British Museum in London, where they are now displayed.
Читайте також:

Попередня стаття
The Pyramids of Giza

Наступна стаття
Stonehenge in Wiltshire