Each of these landmarks is a cultural icon, it may represent an epoch, an area, a belief, a culture, a country or a city, it also may represent more than one of this various meanings.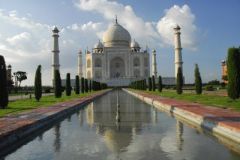 The Taj Mahal is a tomb situated in Agra, India.
The Taj Mahal was built by the Mughal emperor, Shah Jahan in the memory of his beloved wife, Mumtaz Mahal. It is one of The Seven Wonders of the World and is said to be one of the finest art of the Mughal architecture. The architecture has a mixture of Persian, Ottoman, India and Islamic art. During the year 1983, the Taj became a part of the UNESCO, World heritage Site.